2020
In this COVID-19 time, Capital Church want to be faithful not fearful
and part of healing not hurting our nation.
Therefor during this time we have  temporarily moved our worship online
on our facebook page
we still sing, pray, and share a gospel message.
 Join us Saturdays at 11.30 am ( NZ time)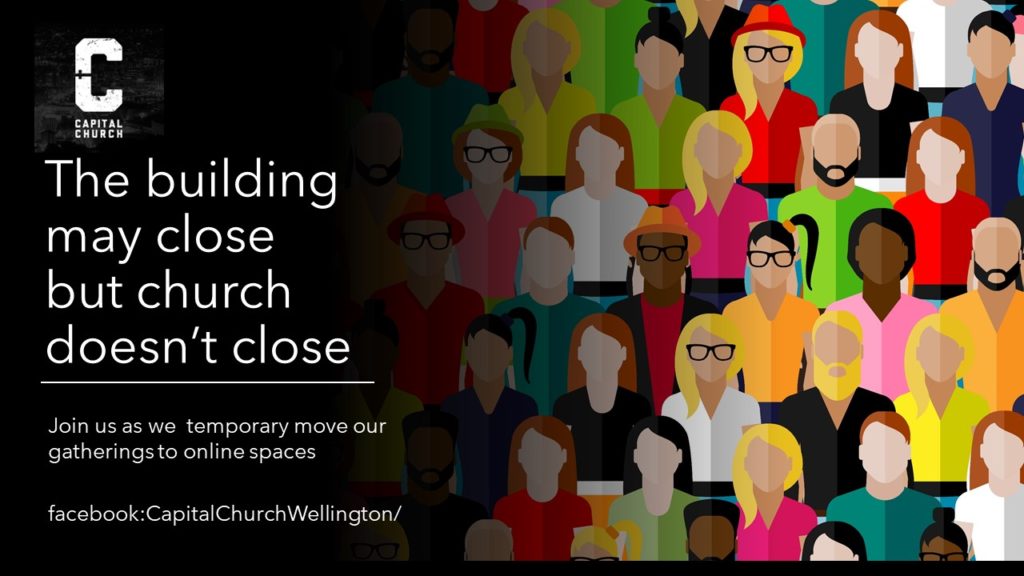 Weekly
MONDAY: PRAYER ZOOM 7 pm
Tuesday: small group ( in home) ON ZOOM at the moment. message us for connections
Saturday: Worship : For now we meet online, bring your own BEVERAGE and bible and join us on facebook  / zoom( see above for details)
Normally Our doors open at 11 for morning tea  and talk and the  service starts at 11.30  and runs to about 1 pm. During the service there are activities for young children.  
May
02 Kirsten Lundqvist
09 Lance Boulton
16 Kirsten Lundqvist: THE GAMECHANGER- Jesus comes down to earth
23 Joshua Stothers:  THE GAMECHANGER-The Lamb of God
30 Andre Afamasaga: THE GAMECHANGER- The Disciples believe
June
06 Paul Whiting: THE GAMECHANGER- Whoever believes in Him shall not perish
13 Anganette Hall: THE GAMECHANGER-Outsiders believe
20 Kirsten Lundqvist: THE GREAT I AM- Life through the Son
27 Melanie Malifa: THE GREAT I AM- The Bread of Life
July
o4 Maika Peehikuru: THE GREAT I AM- The water of Life
11 Paul Whiting: THE GREAT I AM- The light of the world
18 Jesse HErford: THE GREAT I AM – The good shepherd
25 TBC